What Information Do We Collect?
We collect information from you when you register on the site, place an order, enter a contest or sweepstakes, respond to a survey or communication such as email, or participate in another site feature.

When ordering or registering, we may ask you for your name, email address, mailing address, phone number, credit card information or other information.

We also collect information about gift recipients so that we can fulfill the gift purchase. The information we collect about gift recipients is not used for marketing purposes.

Like many websites, we use "cookies" to enhance your experience and gather information about visitors and visits to our websites. Please refer to the "How do we use 'cookies'?" section below for information about cookies and how we use them.
How Do We Use Your Information?
We may use the information we collect from you when you register, purchase products, enter a contest or promotion, respond to a survey or marketing communication, surf the website, or use certain other site features in the following ways:
To personalize your site experience and to allow us to deliver the type of content and product offerings in which you are most interested

To allow us to better service you in responding to your customer service requests.

To quickly process your transactions.

To administer a contest, promotion, survey or other site feature.

If you have opted-in to receive our email newsletter, we may send you periodic emails. If you would no longer like to receive promotional email from us, please refer to the "How can you opt-out, remove or modify information you have provided to us?" section below. If you have not opted-in to receive email newsletters, you will not receive these emails. Visitors who register or participate in other site features such as marketing programs and 'members-only' content will be given a choice whether they would like to be on our email list and receive email communications from us.
How Do We Protect Visitor Information
We implement a variety of security measures to maintain the safety of your personal information. Your personal information is contained behind secured networks and is only accessible by a limited number of persons who have special access rights to such systems, and are required to keep the information confidential. When you place orders or access your personal information, we offer the use of a secure server. All sensitive/credit information you supply is transmitted via Secure Socket Layer (SSL) technology and then encrypted into our databases to be only accessed as stated above.
How Do We Use "Cookies"?
Yes. Cookies are small files that a site or its service provider transfers to your computer's hard drive through your Web browser (if you allow) that enables the site's or service provider's systems to recognize your browser and capture and remember certain information. For instance, we use cookies to help us remember and process the items in your shopping cart. They are also used to help us understand your preferences based on previous or current site activity, which enables us to provide you with improved services. We also use cookies to help us compile aggregate data about site traffic and site interaction so that we can offer better site experiences and tools in the future.
We may contract with third-party service providers to assist us in better understanding our site visitors. These service providers are not permitted to use the information collected on our behalf except to help us conduct and improve our business.
You can choose to have your computer warn you each time a cookie is being sent, or you can choose to turn off all cookies. You do this through your browser settings. Each browser is a little different, so look at your browser Help menu to learn the correct way to modify your cookies. If you turn cookies off, you won't have access to many features that make your site experience more efficient and some of our services will not function properly. However, you can still place orders over the telephone by contacting customer service.
Do We Disclose The Information We Collect To Outside Parties?
We do not sell, trade, or otherwise transfer to outside parties your personally identifiable information unless we provide you with advance notice, except as described below. The term "outside parties" does not include Stunt Puppy, Inc.. It also does not include website hosting partners and other parties who assist us in operating our website, conducting our business, or servicing you, so long as those parties agree to keep this information confidential. We may also release your information when we believe release is appropriate to comply with the law, enforce our site policies, or protect ours or others' rights, property, or safety.
However, non-personally identifiable visitor information may be provided to other parties for marketing, advertising, or other uses.
How Can You Opt-Out, Remove or Modify Information You Have Provided To Us?
To modify your email subscriptions, please let us know by modifying your preferences in the "My Account" section. Please note that due to email production schedules you may receive any emails already in production.
To delete all of your online account information from our database, sign into the "My Account" section of our site and remove your shipping addresses, billing addresses & payment information. Please note that we may maintain information about an individual sales transaction in order to service that transaction and for record keeping.
You can visit the page http://www.adroll.com/about/privacy to opt out of AdRoll and their partners' targeted advertising.
Third Party Links
In an attempt to provide you with increased value, we may include third party links on our site. These linked sites have separate and independent privacy policies. We therefore have no responsibility or liability for the content and activities of these linked sites. Nonetheless, we seek to protect the integrity of our site and welcome any feedback about these linked sites (including if a specific link does not work).
SMS/MMS Mobile Marketing 
We respect your privacy. We will only use information you provide through the Program to transmit your mobile messages and respond to you, if necessary. This includes, but is not limited to, sharing information with platform providers, phone companies, and other vendors who assist us in the delivery of mobile messages. WE DO NOT SELL, RENT, LOAN, TRADE, LEASE, OR OTHERWISE TRANSFER FOR PROFIT ANY PHONE NUMBERS OR CUSTOMER INFORMATION COLLECTED THROUGH THE PROGRAM TO ANY THIRD PARTY. Nonetheless, We reserve the right at all times to disclose any information as necessary to satisfy any law, regulation or governmental request, to avoid liability, or to protect Our rights or property. When you complete forms online or otherwise provide Us information in connection with the Program, you agree to provide accurate, complete, and true information. You agree not to use a false or misleading name or a name that you are not authorized to use. If, in Our sole discretion, We believe that any such information is untrue, inaccurate, or incomplete, or you have opted into the Program for an ulterior purpose, We may refuse you access to the Program and pursue any appropriate legal remedies.
Text Marketing and notifications (if applicable): By entering your phone number in the checkout and initialising a purchase, you agree that we may send you text notifications (for your order, including abandoned cart reminders) and text marketing offers. Text message frequency may vary. You can unsubscribe from further text messages by replying STOP.   Message and data rates may apply. In addition, the Website uses cookies to help keep track of items you put in your shopping cart and to tell us if you have visited the Website in the past. This allows visitors to the online store to maintain shopping carts between visits. You can refuse cookies by turning them off in your browser.
California Civil Code Section 1798.83 permits Users of the Program that are California residents to request certain information regarding our disclosure of the information you provide through the Program to third parties for their direct marketing purposes. To make such a request, please contact us at 
This Privacy Policy is strictly limited to the Program and has no effect on any other privacy policy(ies) that may govern the relationship between you and Us in other contexts.
If our store is acquired or merged with another company, your information may be transferred to the new owners so that we may continue to sell products to you.
Changes To Our Policy
If we decide to change our privacy policy, we will post those changes on this page. Policy changes will apply only to information collected after the date of the change. This policy was last modified on October 30, 2014.
Questions and Feedback
We welcome your questions, comments, and concerns about privacy. Please send us any and all feedback pertaining to privacy, or any other issue to service@stuntpuppy.com
Online Policy Only
This online privacy policy applies only to information collected through our website and not to information collected offline.
Your Consent
By using our site, you consent to our privacy policy.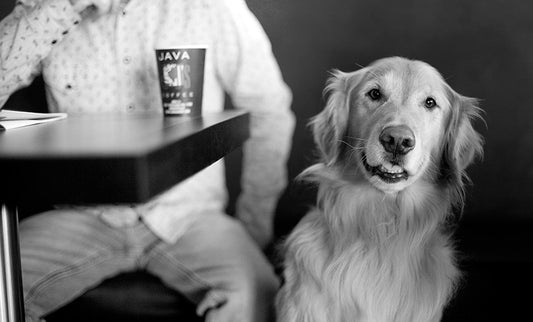 Gear For Active Dogs
This is gear for dogs that brave autumn without an argyle sweater, ride shotgun in the pickup, nudge their running partner awake before the alarm goes off…you get the idea. Dogs like these need gear that keeps up with them, in the city and the country; the rain and the sun; the hot and the cold; the dark and the light.
This gear is for you and your dog. Whatever you do. Every day.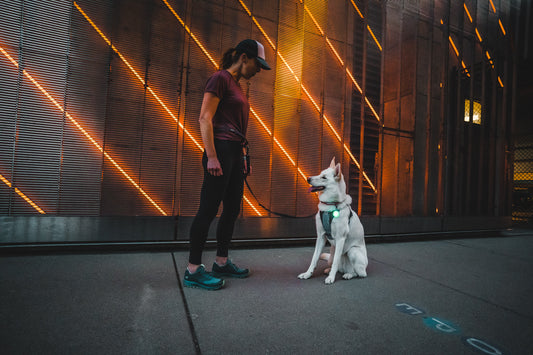 From Basement to Brand
For years, Ken Goldman searched for the perfect leash and collar for his golden retriever, Bauer. From volunteering at hospitals to running the trails, their lifestyle was busy – and put their dog gear to the test. Dissatisfied with other dog products on the market, Ken retreated to his basement, pulled out a sewing machine (thanks Mom) and created the Stunt Runner™, a dog leash fitted with a flexible connector, which enabled him to run easily with Bauer by his side.
He tested his gear with neighborhood dogs and quickly moved on to the most active of canines: Search-and-rescue dogs, law enforcement dogs, Iditarod dogs, dock-diving dogs. These dogs continue to test all Stunt Puppy products and inspire new gear.
What began as a basement project quickly turned into a national brand. Taking cues from high-quality climbing, skiing and camping gear, Ken used similar materials and construction techniques to ensure his products had the comfort and durability to keep up with even the most active dogs and their owners.
How We Make Gear Fit For A Dog
Human Grade Components

Human-grade fabrics mean gear that's lighter, softer, more breathable, and performs better across a range of conditions. We use human-grade fabrics and components because to us, it's never JUST a dog.
Fit-To-Move™ Design

There are no straight lines on a dog, so there are no straight lines on Stunt Puppy jackets. Curved panels, articulated seams, and adjustments where they're needed most allow for a customized fit that accommodates deep chests, broad shoulders, narrow waists and all the glorious combinations in between.
Lab-Test the Gear

Good on paper isn't good enough for the kind of treatment that our outdoor gear needs to endure. Every Stunt Puppy design is tested and measured by our team of Lab-Testers.
To Make It Right, We Make It in the Right Place

From the first buckle to the last stitch, we manufacture where materials and techniques are the best: New Zealand's first-rate Merino wool; China's flotation construction expertise; the United States' premiere reflective technology. It all comes together in the USA where we can ship with the smallest footprint and help take care of our one beautiful planet.
We Love Our Dogs as Much as You Do

We started with a single jacket made from scraps for Jack, our thermally fragile Ridgeback, and fashioning the perfect leash for Bauer to make his hospital therapy rounds. We still design for the Jacks and Bauers who are making the world a better place, one unconditional wag at a time.
Here's What Makes Us Better
Tubular Webbing

Soft, smooth and strong. The same material used in top-quality climbing and rescue gear. Doesn't pinch the skin or mat the hair.
Patterns

Because your dogs life is seven times too short to live with boredom. We've created a unique line of patterns to fancy up your dog.
Crazy Strong and Crazy Light Carabiners

Active dog owners tend to have their hands full. These carabiners are strong, durable – and so easy to use. They auto lock once clipped onto your dog's collar.
Bar Tack Stitching

We don't glue our materials together or sew like Grandma; we stitch `em right and tight. This super strong stitch is the same one used on climbing harnesses and firefighters' gear.
Duraflex® Buckles

Buckles are one of the key safety features in any leash or collar. So when it comes to buckles, we don't mess around: We use the best ones on the market.
Innovative Reflective Trim

Made with 3M™ Scotchlite™ Reflective Material. Looks great during the day, shows up even better at night, reflecting back up to 500 feet.
Biothane® Waterproof Material

A lightweight and virtually indestructible material that's waterproof and stinkproof. Built to handle weather extremes, it stays flexible in the coldest of conditions.
Dual D Rings

One ring for the tags and one ring for the leash. There's no need to reach under your dog's neck to clip the leash and then spin the buckle and tags all the way up to the top of the neck. The second D-Ring is right there on top (and can be repositioned) for you to easily clip right into. And no jingle mingle with the leash and tags.